Description
Lion Energy - Summit - Portable Generator, 665Wh LiFePO4, 530W AC
---
The Lion Energy Summit. is a portable solar powered generator that provides safe, silent, and renewable power for your cooking, communication, entertainment, CPAP, work, and emergency needs. No fuel or maintenance required. With 530W of output, multiple outlets and ports, and weighing only 18 lbs, you can have power at your fingertips, wherever you are.
Faster Charge Time – Can fully charge from the wall in as little as 4 hrs.
Easy to Transport - Weighing only 18lbs but still holding an impresive 530W / 665Wh capacity.
Pure Sine Wave - Making this an ideal generator for all your sensitive electronics such as CPAP and media devices.
Built tough to withstand the harsh elements and be able to consistently perform day in and day out.
FEATURES
Keep your adventures going with all the power you need.
Plug in anything from a mini-fridge, CPAP, TVs, power tools, blenders, laptops, drones, lamps, to cameras and phones. Keep projects going with all the power you need. The Lion Summit has the the perfect inverter size (530W) with an impressive 665wH lithium iron phoshate battery - allowing you to use most of your electronic devices for the longest period of time.

EASY TO TRANSPORT
LIGHT WEIGHT
RENEWABLE
LONGER POWER
FAST CHARGING
2X 12V AC
1x 12V DC
2X USB-A
2X USB-C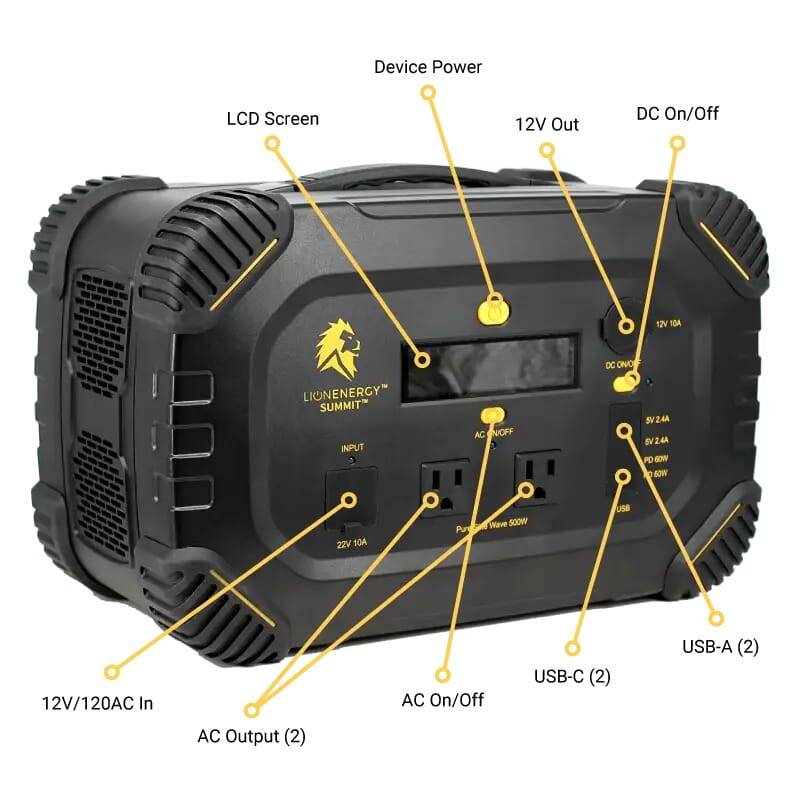 BLUETOOTH ENABLED
Power in the palm of your hand

Connect to the Summit and control the functionality from a distance using Bluetooth technology. Turn your generator on or off remotely, so you're not wasting any energy.
Monitor current and past energy usage, turn features on and off at the touch of a button, and set up custom controls to tailor the Summit to your needs.
See what energy is coming in and going out. Make individualized adjustments to create the best experience for yourself.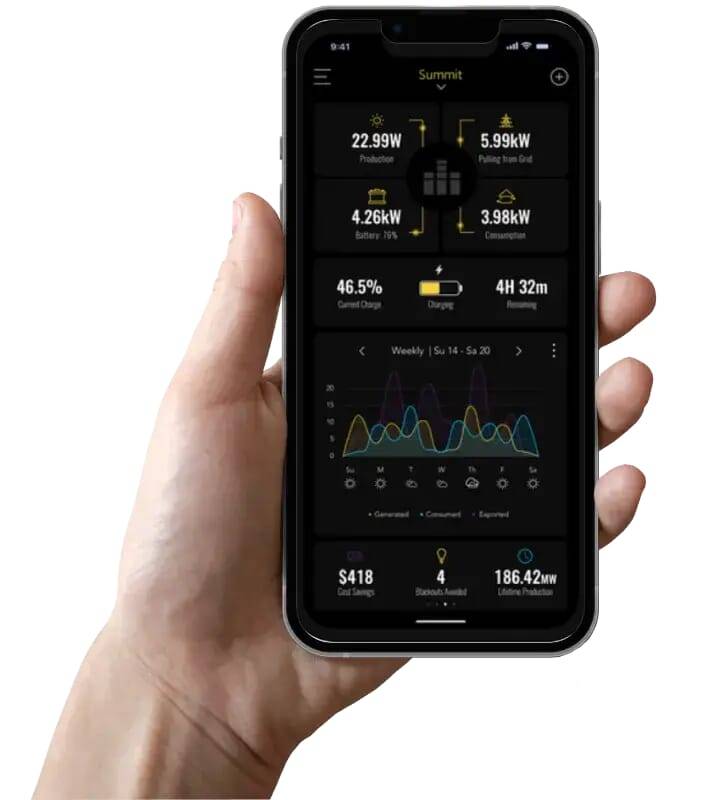 THE LION ENERGY SUMMIT: TAKE IT LITERALLY ANYWHERE YOU GO
CAR TRIPS / CARPOOLING
MULTI DAY CAMPING TRIPS
BACKYARD ACTIVITIES
REMOTE WORKING
PLAY
EMERGENCY USE
TAILGATING
Lion Energy Summit - Portable Generator
---
| General | |
| --- | --- |
| Weight: | 18lbs. |
| Dimensions: | 13.25" x 7.25" x 8.5" (L x W x H) |
| Output Ports (AC): | 2 |
| Output Ports (USB): | 2X USB-A 5V @ 2.4A each, 2X USB-C 20V @ 3A (60 Watt max) PD |
| Warranty | 1 year |
| Charge Rate | |
| --- | --- |
| Charge Capacity (AC) | 13-22V, 10A, 150W |
| Min. Charge Time: | 4-5 Hrs Wall, 4-6 Hrs solar |
| Input | Solar /AC Wall / 12V |
| Battery | |
| --- | --- |
| Battery Chemistry: | Lithium Iron Phosphate |
| Watt Hours (Wh): | 665Wh |
| Output (W): | 530W Pure Sine Wave |
| Life Cycles: | 3,500+ |
| Charge Retention | 1 + Year |
Lion Energy - Summer Deep Dive
---
If, in the case, the item has a different handling and/or shipping estimate, it will be clearly displayed under the Add to cart button on the individual product page, and will override our shipping policy's handling and shipping estimates here.
---
Handling Times
Most orders are processed and shipped from our warehouse within 1 to 3 business days of an order being placed (excluding weekends and holidays).
Once your order is shipped, you will receive an email confirmation that your order has left our warehouse. This email will also contain the necessary information needed to track your package.
Shipping Times
After your item leaves our warehouse expect it to arrive in 3 - 4 business days. This brings the average total shipping and handling time to 4 - 7 business days.
Please note that if your order is very large and sent via freight your order can take up to 2 weeks to be delivered once it is shipped. If there is an issue with your order (backordered, damaged items, address issues), we will reach out to you as quickly as possible to ensure the issue is rectified in a timely manner.
Domestic Shipping Costs
We offer free shipping on most items in our store. Shipping is FREE on all items that show the FREE SHIPPING label on the product page! Otherwise, shipping costs will be calculated at checkout.
Shipping to P.O. Boxes, APO, FPO, and DPO
We do not ship to any of the following: P.O. Boxes, APO, FPO, and DPO.
Unfortunately, most of our items are too large to be sent to these addresses and many shipping companies refuse, or are not even allowed, to ship there.
Shipping to Alaska, Hawaii, and US Protectorates
We currently do not ship to Alaska and Hawaii. As most of our items ship freight, it would cost an exorbitant amount of money to ship. We apologize for any inconvenience. 
Shipping Internationally
We also do not currently offer International Shipping. However, please keep checking back as this may change in the future!
How do I check the status of my order?
When your order has shipped, you will receive an email confirmation from us. This email will include a tracking number which you can use to check your order status. Please allow 2 to 5 business days for the tracking information to become available. 
You can also check the status of your order in real time on our website with our Track My Order page. Simply click the link, fill in the necessary information, and click "Track". With this feature, you will be able to look at where your order is in the delivery process in real-time.
If you haven't received your order and the tracking number says it was delivered please contact us immediately at support@avanquil.com with your name and order number and we will get to the bottom of it as quickly as possible.
Refunds, Returns, and Exchanges
To determine whether your item is eligible for a return or exchange, please review the Return Policy tab on the product page or visit our Return & Refund Policy for further clarification regarding returns and refunds.
In the event that your order arrives damaged in any way, please email us at support@avanquil.com as soon as possible with your order number and a photo of the item's condition. We address these on a case-by-case basis and will try our best to work with you towards a satisfactory solution. To read more about our return policy don't hesitate to check out our full Return & Refund Policy!
If you have any further questions, please do not hesitate to contact us at support@avanquil.com. 
Please note, if you have a problem with your order (damages, missing pieces, not working properly, etc.), please reach out to us as quickly as possible after it is delivered. Many times we can fix the issue without the item needing to be returned.
The following return policy only applies to Lion Energy. If you would like to see the return policies for all brands we carry, please visit our Return & Refund Policy page.
Time Frame Allotted
Customers can request a return 30 days from the date of delivery for most items.
Return Process
To request a return, email us at returns@avanquil.com.
Please include the following information:
Order #
The item(s) you would like to return
Reason for your return
Serial number of your item(s) (If applicable)
Photos/Videos (If damaged and/or defective)
If you are requesting a return due to your item(s) being damaged and/or defective, then you may be required to also include photos and/or videos and go through reasonable troubleshooting to determine if the item is indeed damaged and/or defective.
If your request is approved, the return procedure will be as follows:
We will either send you a Return Merchandise Authorization (RMA) along with the return address or a Prepaid Shipping Label depending on your reason of return.
Securely pack all the returned items in the original packaging and include any other paperwork requested in the return approval email.
We recommend taking a picture of the package and/or the item before shipping.
Ship the package. We will either provide you with a return shipping label or you will have to arrange the shipping yourself. You can use UPS or FedEx Ground if your order was delivered by one of these carriers. If your item is larger and was delivered with one of the LTL freight carriers you need to make sure the box is put on a pallet and schedule a pickup with an LTL freight carrier.
Once you ship the return package(s), please provide us with the tracking number(s) so we may monitor the status of your returned package(s)
Once your return is received and inspected, we will notify you of the approval or rejection of your refund.
If your return is approved, then your refund will be processed, and a credit will be automatically applied to the original method of payment within 10 business days.
Exchanges
In many cases if the item arrives and is not working, reasonable troubleshooting steps will need to be taken with the manufacturer to determine if the item is defective so we can proceed with an exchange if necessary and if approved by the manufacturer.
Shipping
Please note, you will be responsible for all return shipping charges in cases of buyer's remorse. We define buyer's remorse as "an order that is returned because the customer changed their mind, didn't like the item (when nothing was physically wrong with it), the item didn't fit (when proper measurements were given), found a better price elsewhere, and/or ordered the item by mistake".
For non-buyer's remorse returns, shipping will be paid for by us. These include items that arrived damaged, items that don't work or are defective, or when the wrong item is sent.
Refunds
Only after we receive your return and inspect the condition of your item or items, we will then process your refund for your return. Please allow up to 2 weeks for us to process your refund. After processing, it could take up to 5 business days for the refund to appear on your credit card statement. We will always notify you by email when your refund has been fully processed.
Deductions from your refund may include the following:
Restocking Fees: For returns of "buyer's remorse" (defined above), there will be a 10% restocking fee.
Shipping Charges: Original and return shipping charges will not be refunded unless the return is the result of our error.
Disclaimers
Returns cannot be accepted without prior authorization. Products must be new, resalable, and in the original packaging (some restrictions apply).
It is the customer's responsibility to return the product to the correct address in new condition and in the original packaging. For this reason, we strongly suggest that you obtain a tracking number for the returning item(s) and purchase shipping insurance.
Avanquil does not guarantee your return request will be approved, if your request is not approved, then we will send an email with an explanation why your return request was denied.
Returns cannot be accepted after 30 days from the date of delivery. If 30 days from the date of delivery has passed, then all requests will need to be directed to the manufacturer and your item(s) will be subject to the manufacturer's warranty policy.
Returns need to be mailed back to the instructed location within 10 days of being approved, unless otherwise noted.
If a product is returned in unacceptable condition or not as described in your return request, we reserve the right to destroy the product or return it at your expense.
Have Any Questions?
If you have any questions about our return policy, please do not hesitate to reach out to us. We try to make communication with us as easy and transparent as possible. You can reach out to us via Live Chat, call us at (888) 808-5549, or email us at support@avanquil.com.
Avanquil is not a warranty repair station, and therefore AVANQUIL MAKES NO EXPRESS OR IMPLIED WARRANTY WHATSOEVER WITH RESPECT TO ANY MERCHANDISE, INCLUDING BUT NOT LIMITED TO THE IMPLIED WARRANTIES OF MERCHANTABILITY AND FITNESS FOR A PARTICULAR PURPOSE. The only warranties provided are provided by the manufacturer and are as contained in each manufacturer's package. All requests for warranty information, repairs, and claims should be made directly to the manufacturer.
For your convenience, Lion Energy's warranty policy is shown below.
Lion Energy offers a full year warranty and a limited lifetime warranty on the UT 1300. If you're unhappy for any reason, just give us a call at 385-375-8191 between 8:30 - 5:00 MST (we're in Utah) or email us at info@lionenergy.com
Payment & Security
Your payment information is processed securely. We do not store credit card details nor have access to your credit card information.
100% Secure Checkout
Our online store is Shopify-based with SSL Encryption. This simply means you're always safe when shopping with us.
USA Warehousing
All products we carry are stored in local USA based warehouses.
Let customers speak for us